Some links on this site do not appear in google chrome-to see the links affected switch over to firefox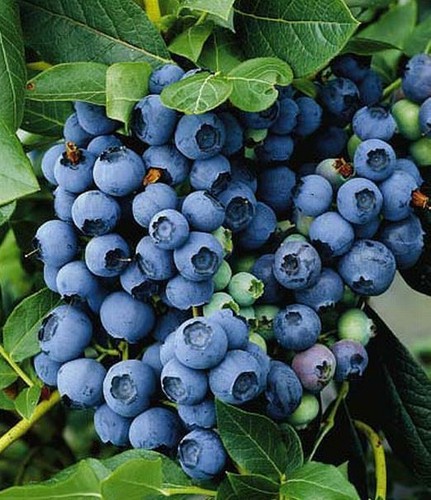 Blueberry - 'Gulf Coast'- Vaccinium live plant. One of the better low-chill varieties requiring 100-200 chill hours, a good variety for homeowners. This heat-tolerant cultivar is a prolific producer of medium-sized berries from mid- to late spring, weeks before the rabbiteye blueberry season. The firm, succulent fruits are preceded by pinkish-white flowers. The attractive blue-tinged semi-evergreen foliage turns red in cold weather. This vigorous upright cultivar eventually forms a broad, 4-6' shrub.This handsome shrub also works well in hedges, shrub borders, and other ornamental plantings Cultivation
Description :
Blueberry seed is very small,delicate flesh.
Blueberry fruit can be eat directly, or processed into juice, fruit wine, beverage, health care products and medicine, etc.
Blueberry fruit is rich in nutrients, has great nutrition and health care function.
It can prevent brain aging, cancer resistant, soften blood vessels, and enhance the body's immune system.
Specification:
Variety: Blueberry seed
Type: Succulent Plants
Color: Blue
Shape: Circular
Growth period: 70-80 days
Seeding temperature: 18'C-25'C / 64.4'F-77'F
The growth temperature: 18'C-36'C / 64.4'F-96.8'F
Spacing: 20 x 30cm / 7.87'' x 11.81''
Sowing to watch: About 70 days
Weight of fruit: 0.5-4.5g
Cultivation techniques:
It is best to choose mud wapen.
Blueberries in acid medium can grow healthy , cultivating soil pH between 4 ~ 5 the most suitable for blueberries.
Blueberry is not high to the requirement of fertilizer, big fertilizer can damage it instead.
A certain amount of leaf soil basically can meet the requirements of the growth of blueberries.

Northern Highbush Blueberry Plants -10 Varieties - 9-16 Inch Tall Potted Plants - State Inspected



Northern Highbush varieties are very cold-hardy, making them ideal for home gardens in cooler northern climates of USDA zones 3-8. Besides producing an abundant crops of flavorful blueberries, these plants make great landscape plants with lovely flowers in the spring, dark green foliage that looks beautiful all summer and stunning colors in fall. All northern highbush plants are self-pollinating, but will produce more berries if 2 varieties are planted.


We ship to all states except MI and GA.

10 plants will ship for 21.80 shipping cost. Leave a message on the order and I will adjust shipping cost to 21.80.


Scenic Hill Farm is a licensed Oregon Nursery. This is our 8th year shipping raspberry and other small fruit and vegetable plants. Check out our store.



Earliblue - The earliest blueberry. Medium/Large size berries, good flavor. USDA Zone 3 - 8

Blueray - Early/Mid Season. Large firm sweet berries. Very productive. USDA Zones 4 - 8

Bluecrop - Early/Mid Season. Large, Firm berries of excellent flavor. High yields. Popular commercial variety. USDA Zones 4 - 8

Berkeley - Mid Season. Large berries of excellent dessert quality. Popular U-Pick & home garden variety. Great fall color. USDA Zones 4 - 8

Ivanhoe - Mid Season. Firm, great dessert quality, excellent flavor. Large size berries, rich, sweet tart flavor. USDA Zones 5 - 8

Herbert - Late Season. Very large berries.Classic sweet, tart flavor. Dessert quality. USDA Zones 5 - 8

Coville - Mid/Late Season.High yield of sweet, large berries. USDA Zone 5 - 8

Duke - Early Season. Large berries, high yields, very firm / Great flavor - sweet/tart, Blooms late Cold Hardy, USDA Zones 4 - 8

Jersey - Late Season. Medium size berries, Firm, Great flavor, very sweet. Great for mu ffins & pancakes. Blooms late. Cold hardy, USDA Zones 4-8, Zone 3 with wind protection

Elliott - Late Season. Large berries up to 1/2". Blooms late to avoid Spring frost. Firm berry, sweeter when ripe. Great fall/winter color. Cold hardy. Blooms late. Not recommended for high elevation early frost areas. USDA Zones 4-8