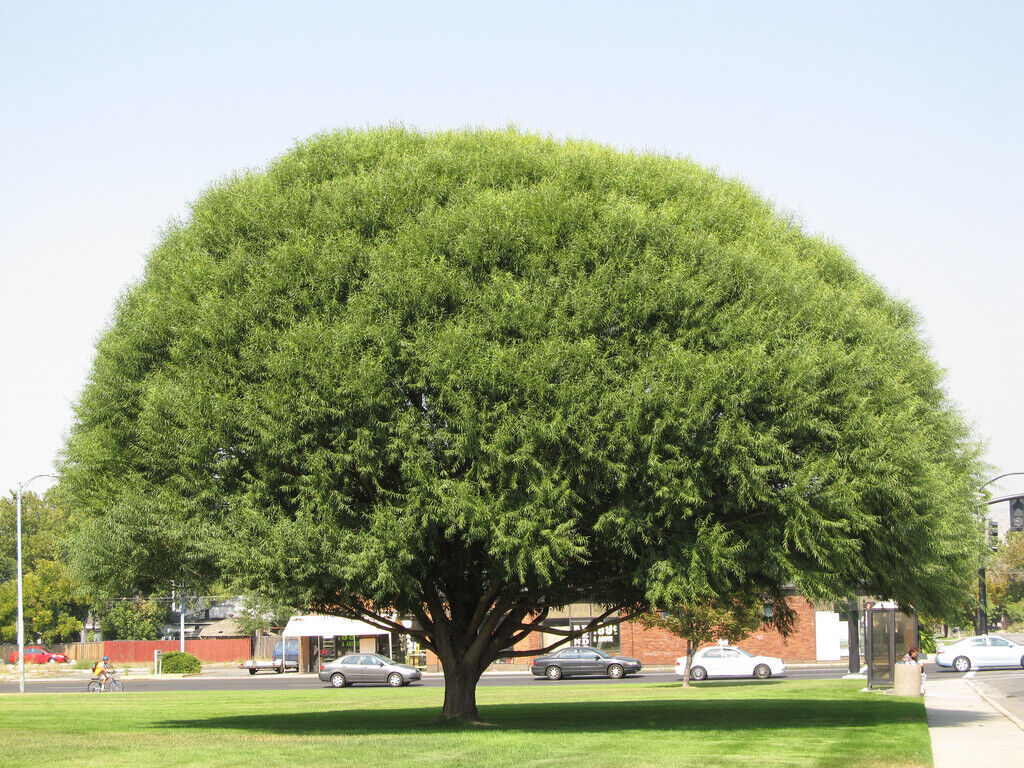 shade trees Get Four (4) Rare Globe (Navajo) Willow Trees. These unique trees earn the name "Globe Willow" for their very symmetrical sphere shape. Boasting a large canopy and great shade this very fast grower will be sure to bring you joy and cooling shade for many years to come. Also works great as a privacy hedge or wind block. Trees will be about 6 inches tall after planting. Can be expected to grow 6-9 feet a year. They love water and wet spots and do very good in full or partial sunlight. Also make a neat Bonsai Tree. Suitable in Zones 3-10 these great trees are sure to please!

Jobe's Organics Fertilizer Spikes For Outdoor Trees & Shrubs (10 Pack) - $21.00
Jobes Organics Fertilizer Spikes For Outdoor Trees & Shrubs is the first spike form organic fertilizer. These all-natural organic 5-5-5 fertilizer spikes are specially made to benefit trees and shrubs. They help promote a nourishing, healthy environment that provides valuable microbial action at the roots - where trees and shrubs need it the most. This in-ground feeding is considered to be the most efficient delivery system for organics. The spikes will boost the soil quality long-term by promoting microbial growth. The pre-measured spikes allow for a quick, easy and no-mess application. Apply in the early spring or late fall for best results.

Blue Spruce Seeds Evergreen Picea Pungens Glauca Garden Tree Seeds (250-Pack)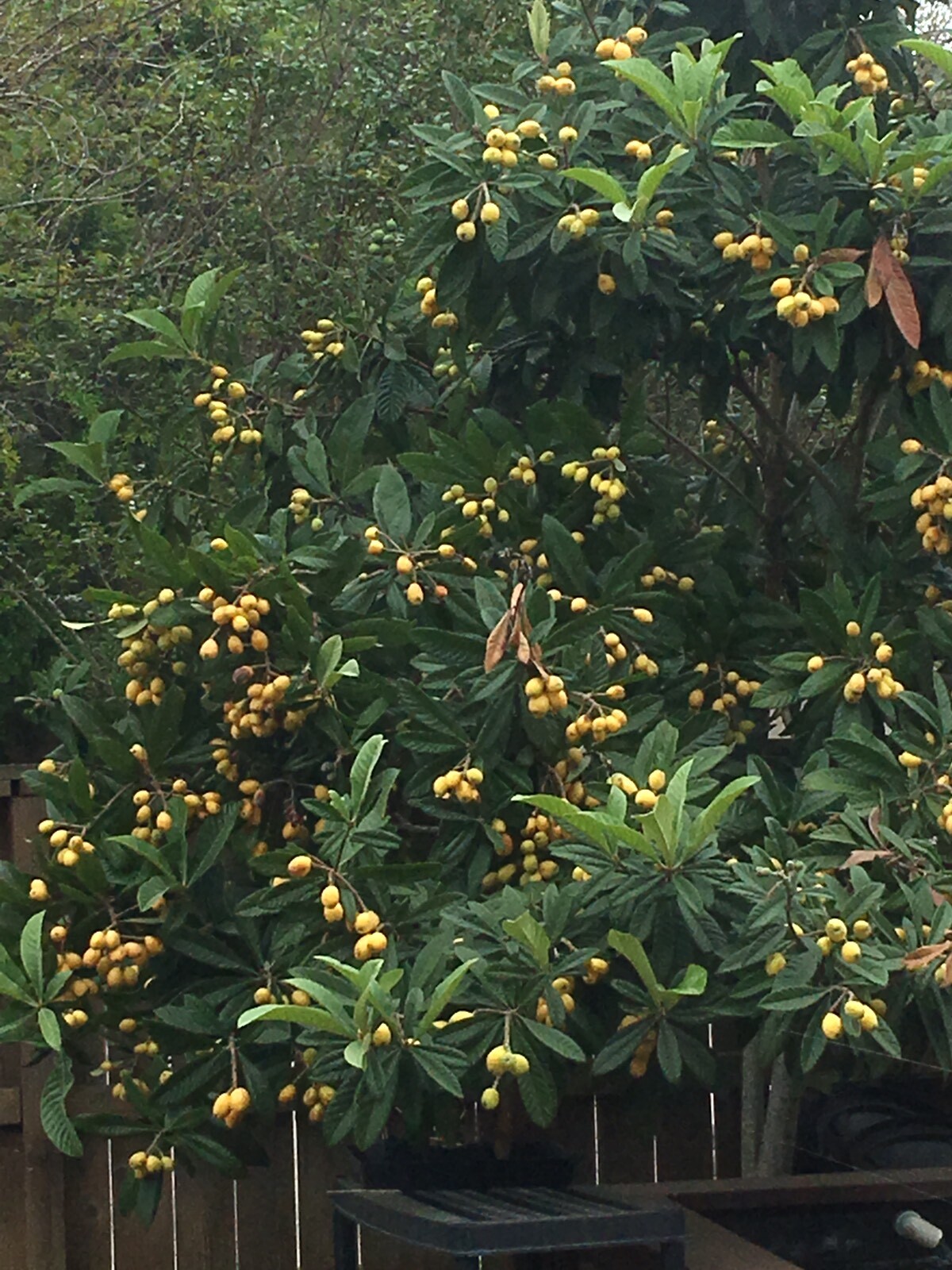 The Loquat (Eriobotrya japonica) is a beautiful tree with delicious, sweet, and slightly tangy fruit reminiscent of a kumquat and a plum. Loquats make excellent jams, jellies, and pies. Great as an indoor or outdoor plant. Overview: Average mature height: 10 - 15 feet. Soil: Rich well drained. Drought tolerant. Light: Full sun. Zones: 8 - 11.
Travelers Palm - Medium Palm Tree - $329.95

The traveler palm is given it's name because it's fan based trunk which is known to supply water to distance traveler's in remote areas. These palms are fast growing, like the banana tree. They are mostly comprised of water, squeeze the stem and water beads. Also known as Ravenala madagascariensis, Travellers Palm. -Real Palm Trees

Persimmon Tree Seeds Diospyros Kaki Fruit Seeds Garden Bonsai (150-Pack)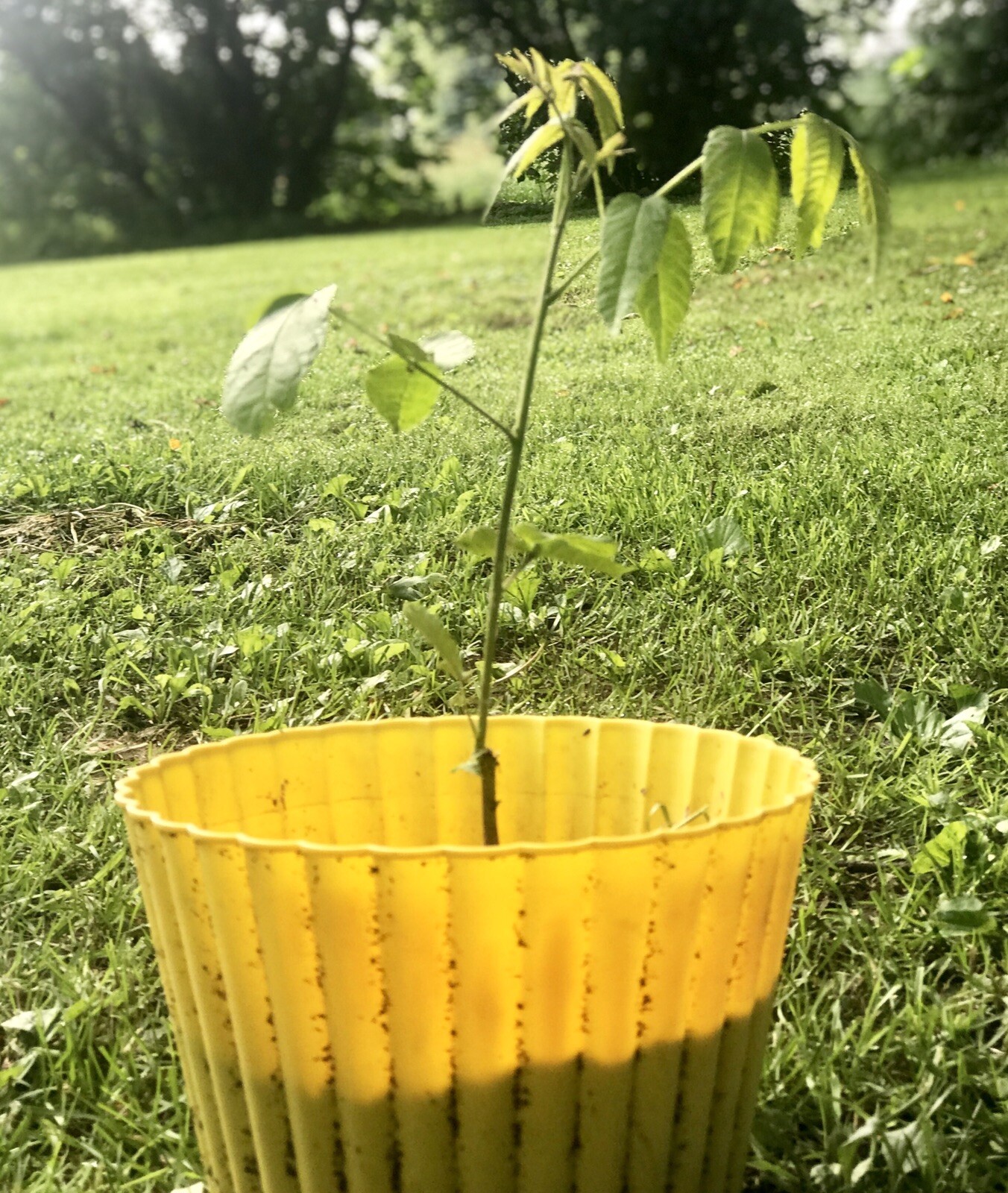 Black Walnut Tree Up To 10in Tall. How to Plant a Black Walnut Tree Consider planting black walnut trees if you live in USDA hardiness zones 5a through 9a with at least 25 inches of precipitation and 140 frost-free days per year. Black walnut trees do best growing in deep, fertile, moist yet well-drained soil with texture ranging from sandy loam, loam, and silt loam to silty clay loam. Select a site that is facing north or east when planting black walnut and avoid areas in valleys, bottomland sites or where airflow is minimal, as all of these foster potential frost damage. You'll need to choose an area of full sun as well.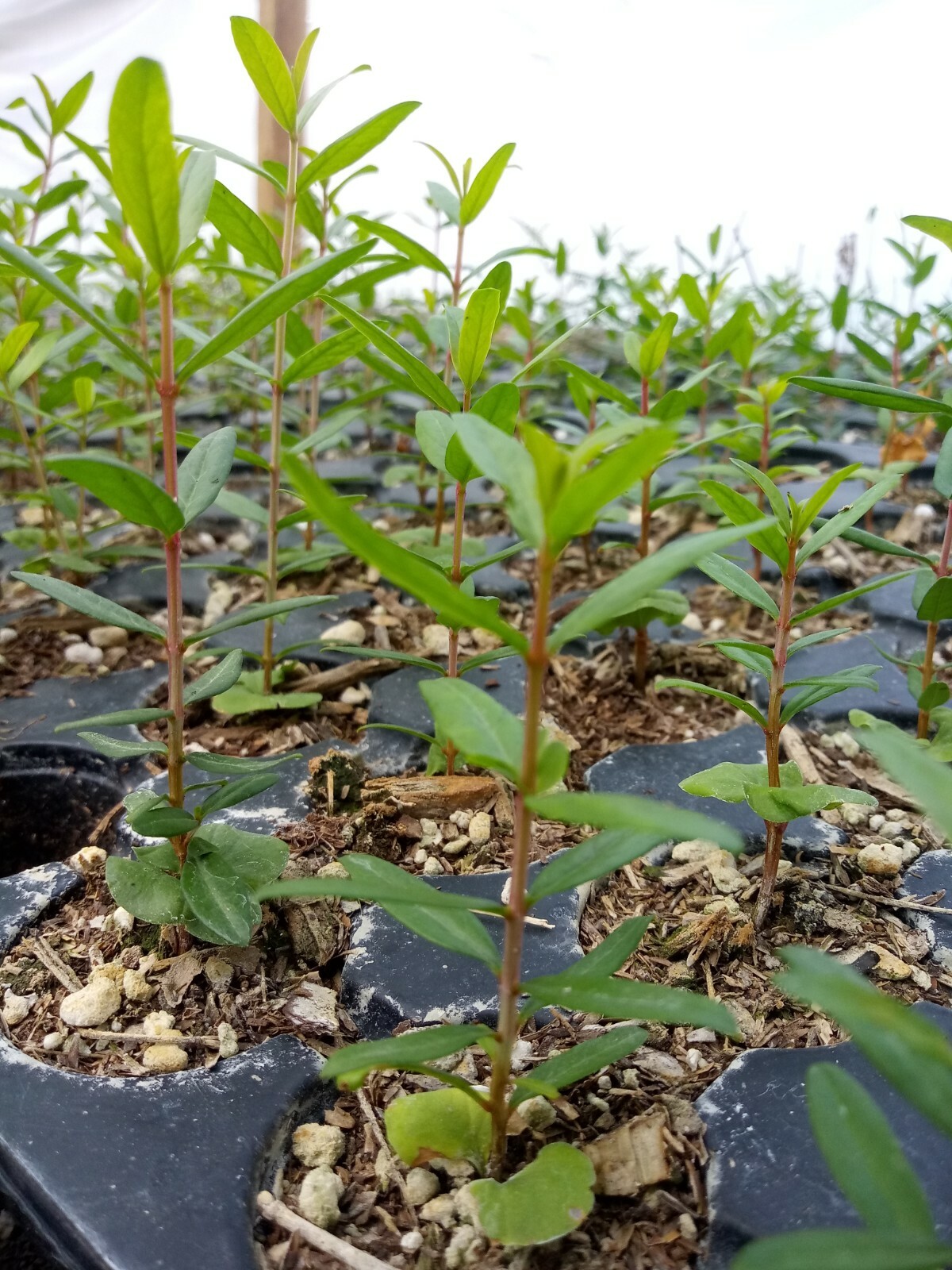 6 LIVE FRUIT PLANT Pomegranate Wonderful Punica granatum . Shipped with USPS First Class Package. 'Wonderful' Pomegranate Punica grantumInformation below is only the potential the plant has. You will be receiving 6 plant between 3 and 6 inches in height shipped in a starter pot This improved variety makes a beautiful deciduous small tree or shrub. Produces beautiful red flowers in summer and delicious red fruit in early fall. Very popular variety often seen in grocery stores. Excels in warm semi-arid climates. Overview:Average mature height: 10 feet. Soil: Average watering needs. Light: Full to part sun. Zones: 7 - 11. Can be grown indoors.SHIPPING & HANDLING: We usually ship 1 - 2 days after payment is received. Plants are sensitive to the cold; if it is cold in your area, please let us know and we can hold your order. Delivery confirmation is included in the price of shipping. . WE GUARANTEE LIVE DELIVERY. We have sent thousands of plants safely to their destinations. However, please let us know if there are any problems with your order by sending us and message with a picture of your plants. We will send replacement plants if damaged. Make sure to check temperatures because we do not guarantee plants shipped to cold places.SPECIAL WEATHER CONSIDERATIONS. Many plants go dormant in the cold/dark months and we may ship plants while they're dormant. However, the plants are still alive; they're just working on their root systems. It is normal and healthy for plants to go dormant. It helps ensure they have a long, happy and healthy life. If you receive a plant without leaves, or a pot of dirt, don't worry. Your plant is just dormant and will show new growth in the warmer spring months. If you're not sure if your plant is dormant, message us and send a picture.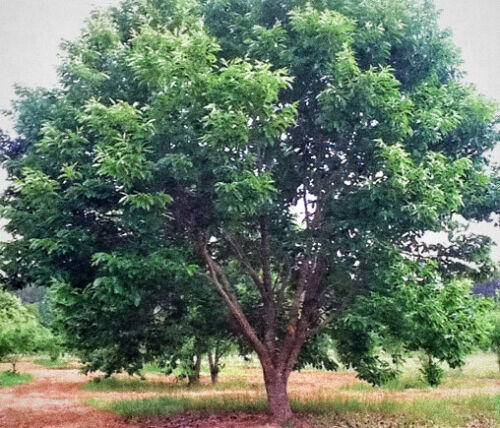 3 CHINESE CHESTNUT TREES. EDIBLE NUT FRUITS. GREAT ROASTED NUTS. BEAUTIFUL LANDSCAPING SHADE TREES. WILDLIFE ATTRACTANT. APPROXIMATELY 1' TO 2'TALL SAPLINGS. SHIPPED BARE ROOT. DORMANT IN WINTER (no leaves). USA SELLER! FAST SHIPPING WITH TRACKING! EASY RETURNS! PLEASE NOTE: The leaves on these trees are very delicate and do not usually make it through shipping but the tree is very healthy and leaves will begin to grow in 3-4 weeks or if ordered in the fall/winter while dormant they will grow in the spring time. DIRECTIONS: Soak roots in water for 24 hours. Transplant into rich potting soil in a large pot (gallon size or larger). Soil line is about 2 inches above the roots. Water well then keep the soil moist but not saturated (well drained). Keep in bright indirect sunlight until established (at least 2 months) then move gradually into full sun. Outside planting is best in the late fall while they are dormant or in early spring after all chance of frost and plants are well established. If your soil is poor, mix it half and half with potting soil. Use a tree and shrub fertilizer after established according to package directions. DESCRIPTION: Scientific Name: Castanea Mollissima Common Name: Chinese Chestnut Family: Fagaceae Tree Type: Landscaping, Shade, Nut Fruit Foliage: Deciduous Fall Color: Yellow Fruit: Edible Nut Water: Medium Sun: Full Sun Soil: Acidic Hardiness Zones 3 to 9 Mature Height: 60 ft. Harvest Time: Autumn INFORMATION: The Chinese Chestnut, Castanea Mollissima, is a deciduous nut tree in the hickory family. These trees can grow very large and are often used as shade trees. They can reach up to 60 or more feet in height and six feet in diameter. Flowers are produced in April to May. Two or 3 nuts, which occur in spiny pods develop in September and October. The spiny nut pods fall from September through December. Chestnuts are generally about 1 inch in diameter. The foliage turns bright yellow in the fall before fall off for the winter. They prefer well-drained acidic soils that are not prone to prolonged flooding. Chestnuts are eaten by a number of birds and small mammals.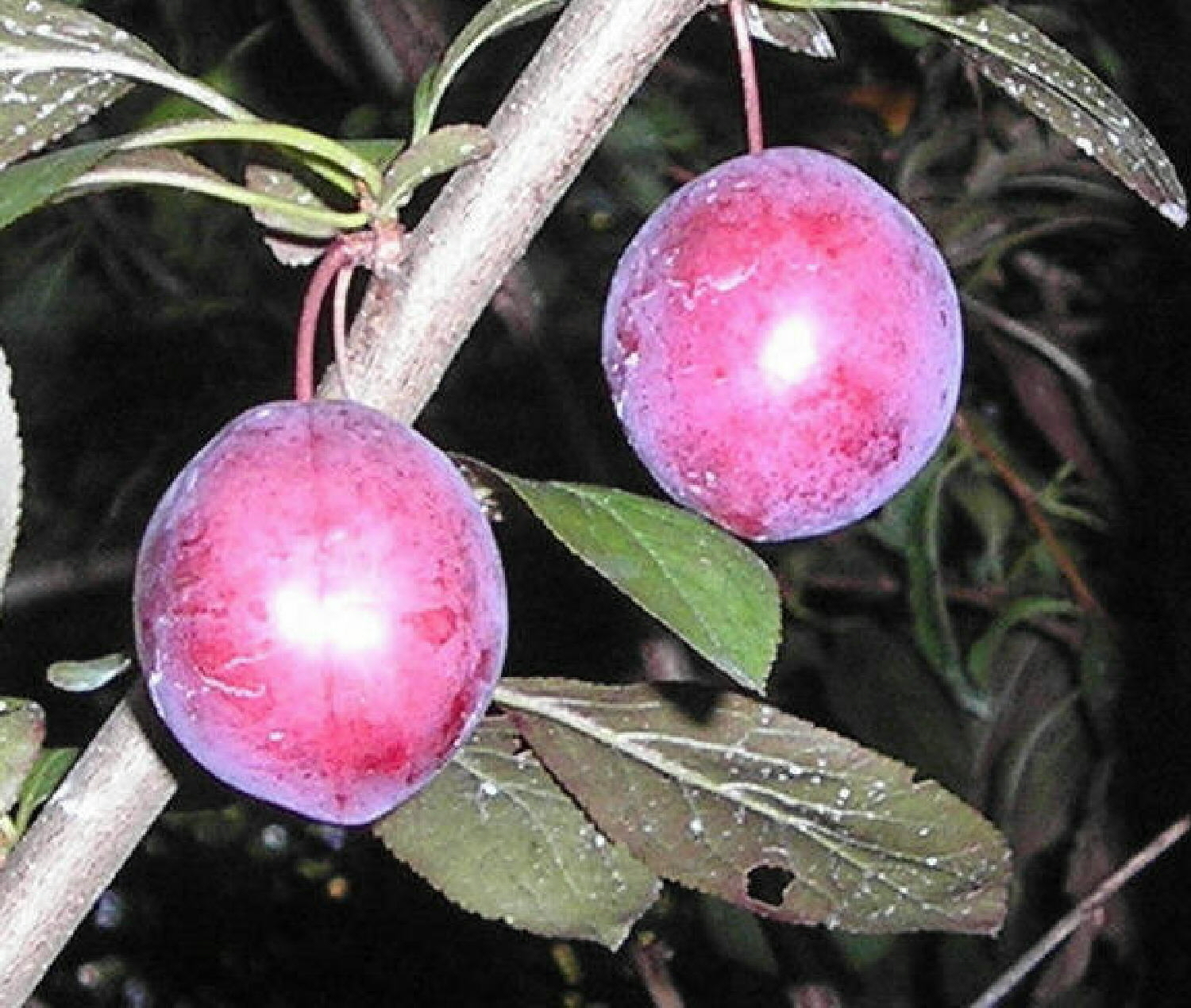 plum tree American Plum (Prunus Americana ) is a native plum growing to about 10 feet tall with beautiful white flowers in spring followed by small tasty reddish plums. Used by the Native Americans for valuable fruit. American plums are great little tough trees. They are native to North America and are well adapted to cold spells in spring, bugs, and disease that can really play havoc with Japanese and European plums. 2 needed for pollination, but can be pollinated with other native plums. Plants are shipped bare-root and are 12-18 inches tall. Plants can also pollinate with Japanese Plums, but the reliability of that method is uncertain. . Plants are hardy from zone 3-8. Law prevents shipment of this plant to California, Oregon, Washington Hawaii.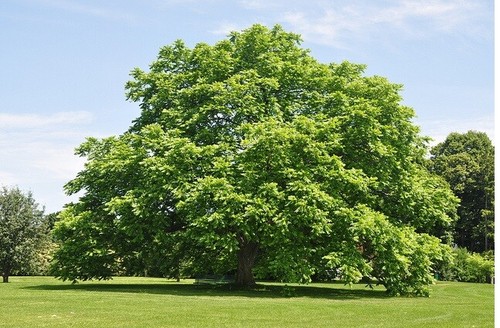 2 Hardy Butternut trees 2-3 feet tall. Grow your own delicious butternuts with these trees. Hard to find and unusual too. Don't miss these, butternuts are often considered to be the best tasting nut.

The pistachio Pistacia vera L., Anacardiaceae is a small tree native to some regions of Syria , Iran , Turkey , Greece , Turkmenistan , Pakistan , and Afghanistan , that produces an important culinary nut. The word pistachio is a loanword from Persian via Latin , and is a cognate to the Modern Persian word پسته Peste . Produces edible nuts. Growing Info: Scarification: Soak in water, let stand in water for 48 hours. Stratification: required. Germination: sow seed 3/8" deep, tamp the soil, mulch the seed bed.