If you really enjoy beautiful outdoor architecture
then click this image to see a lot of very beautiful
and very expensive Gazebos and Victorian Style Greenhouses-
this particular Gazebo is priced at around 250,000.00

Imagine this in your backyard or in your local city park!!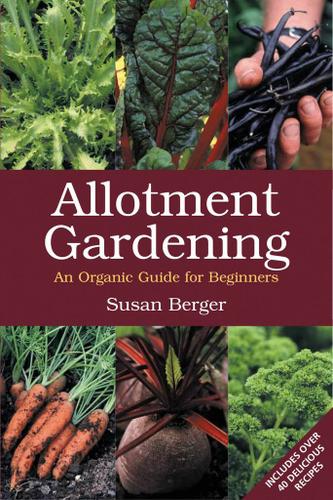 Allotment Gardening - $7.86
Allotment Gardening is a practical guide to growing your own fruit and vegetables organically. Aimed at those who have not had an allotment before, or are new to growing their own, it is packed with advice from choosing and planning your allotment through to harvesting and storing your produce. In Part One, Susan Berger discusses the basics, from tools, planning and clearing the site, to soil, crop rotation, planting and protecting plants. She also looks at design, growing techniques from feeding and mulching to saving seed and supporting plants and how to prevent and cope with common problems. A gardener's calendar, with detailed activities for each month, completes the section. Part Two gives detailed instructions on the cultivation of individual fruit, vegetables, flowers and herbs, along with recommendations for particular varieties, chosen for their flavour. Ideas for companion planting, and tips on storage and use of herbs are also included.Each fruit and vegetable entry features an easy recipe to help you make the most of your fresh produce: simple soups from pea to pumpkin, unusual ways of serving vegetables, from Frizzled Brussel Sprouts to Roasted Beetroot with Thyme; more exotic dishes, from Sauteed Kohl Rabi to an earthy Ribollita; and easy recipes for puddings and jams. Illustrated with line drawings and over 30 full colour photographs, Allotment Gardening also includes a directory of organic seed suppliers and useful organizations.
,,,,,
Planto - Deluxe Large Gardening Bag - $62.99

Size matters! This Deluxe Large Gardening Bag has an inner pocket with enough room for seeds, bulbs or even flower pots. The practical outer pockets can hold spades, shears or gloves. The cord around the top of the bag will keep everything firmly in place. This bag is sturdy with strong handles, shoulder strap, extra floor inlay and four standing knobs. The super-tough 600D polyester can even withstand sharp implements. With a rigid rim for easy access, this garden bag is durable and designed for years of heavy-duty use. Measures 16 x 12 x 9 inches.
Self Watering Raised Bed Garden - $179.00

One of the Best No-Tool Cedar Raised Beds Available The woodshop that makes these beds has built their brand around their line of quality cedar raised beds that achieve a high level of customization. Gardener's can choose the right size from among several dimensions, and can also specify planting depth, whether to apply a coating of food-safe cedar stain, and optional trellising. Perhaps best of all, their beds are NO TOOL assembly but still hold together with a reliable firmness. We offer them at the manufacturer's minimum allowed price. 34"x95" Features Narrow a long Exclusive Lifetime Warranty Tool-free assembly - dovetail design slides together in minutes 100% Western Red Cedar Handcrafted in the USA Choose the bed height: 13" or 19" (10" planting depth, 18.5-28.1cu. ft. soil capacity) Optional application of food-safe cedar protective stain (or DIY with the stain) Optional integrated trellis kit These raised beds are quick and easy to assemble plant and maintain. Easily adapt square foot gardening techniques to these beds. Add an optional trellis this will save space and maximize your growing area and production. The Trellis is great for growing peas, pole beans, cucumbers, morning glory, or any variety of vegetables and flowers that will climb. Beautify your garden today with a raised garden bed.
Huntington Raised Garden Bed - $99.99

Add a splash of color anywhere! The perfectly proportioned and attractively designed Huntington Raised Garden Bed is self-contained and maintenance free. The Huntington is a strong and durable choice to easily add a garden to any space without having the mess of digging one or concern about your current soil type. The Huntington will never need to be painted or stained and is maintenance free. The Huntington is easy to assemble and comes with a 20 year manufacturers warranty against yellowing, warping, cracking, and rotting. Details: Item Code: VA68225 Assembly difficulty: Low Posts: n/a Color: White Number of Boxes: 1
,,,,,
,,,,,,,
Versailles Raised Garden Bed - $189.99

Grow vegetables or flowers anywhere you like! The perfect, attractively designed, contained solution is the Versailles Raised Garden Bed. Crafted from premium weather-resistant vinyl, the Versailles Raised Garden Bed is strong and durable, has beautiful detail, and will never need to be painted or stained. The Versailles is also endlessly customizable add an unlimited number of extension kits to create your desired size and shape. This product is maintenance free and comes with a 20 year manufacturers warranty against yellowing, warping, cracking, and rotting. Details: Item Code: VA68222 Assembly difficulty: Low Posts: n/a Color: White Number of Boxes: 1
,,,,,
Be Ready for the Summer with a great backyard above ground swimming pool kit or build your own inground pool with these great kits!!

Plus a large selection of floating lounge chairs-poolside decks-outdoor grills-poolside lounge furniture-and more!!

Also makes a great emergency water supply and can be used to catch rain water that can be filtered for drinking water!!
see the 250,000 or more survival vegetable seeds packages on the next page
Cargo Delivery Vans-Step Van Delivery Trucks-Cargo Vans-Cutaway Vans

Dodge Sprinter-Ford E series-GMC Savana-Chevy Cube Van
Wolverine tough boots-the best boots that I have ever worn-tough and comfortable boots that lasted me personally for over three years of hard use!!

Outdoor Wooden Gardening Potting Bench and Storage Unit - $459.99
Multifunctional potting table with storage creates an organized workspace and rustic designer look. Bring out your gardening genius. This potting table with storage is packed with features and functionality. Multiple shelves, drawers and cabinet compartments organize garden supplies so theyre within quick, easy reach. Spacious work surface for transplanting, seed starting, potting and getting other garden tasks done. Constructed of solid wood harvested from the Cypress tree family with decay resistance similar to Western Red Cedar. Easy-to-follow assembly instructions included. Ships anywhere in North America.


Features:

Solid Wood

Decay Resistant

Acrylic Protective Coating

Eliminates clutter so you stay inspired and focused

Use outdoors or inside

Doubles as a buffet table, hobby station or fashionable home accent

Large capacity (42"W x 24"D x 67H)

Protective coating sustains wood beauty and performance

Tongue and groove construction

1 year limited warranty for manufacturing defects

Assembly required