Welcome to USA2Me Mail and Package Forwarding Services
Now celebrating our 12th anniversary! USA2Me Anniversary USA2Me provides you with your own physical shipping address in the USA to receive your mail and packages. Just log in to your Mailbox Manager to see your mailbox inventory, forward shipments to you, scan urgent letters, or even discard junk mail!

DeWalt D55146 Electric Compressor - $398.97

200 PSI 4.5 GAL. ELECTRIC COMPRESSOR



5.2 SCFM @ 90 PSI allows for quick recovery
Vertical stand feature saves space
Quiet .75 dBA operational noise level
10" pneumatic wheels allows for easy transport
Oil free, maintenance free pump
1.8 continuous HP belt driven motor
High flow coupler - metal console panel
120 Volt - 2" gauges - weight 83 lb.
Klein Tools D201-7CST 9in. Ironworkers Plier - $44.14

IRONWORKER'S PLIER



Twists & cuts soft annealed rebar tie wire
Hook bend handle & plastic-dipped handles
Spring-loaded action for self-opening
Induction hardened cutting knives for long life
Hot-riveted joint ensure smooth action
Heavy-duty knurled jaws - square type nose
Unique handle tempering helps absorbs wire snap
Jaw length: 1-9/32" - jaw width: 1-5/32"
Stanley Tools DWHT62512 4pc Screwdriver Set - $11.01

DeWALT BRAND 4-PIECE SCREWDRIVER SET



2 slotted and 2 Phillips(TM) tip screwdrivers
Color-coded handle for easy selection
Bi-material - Quad-Lobe handle for -
maximum torque and comfort
Precision sand-blasted tip for -
excellent fit in fasteners
Tips are magnetic to hold screws securely
Wilmar Corp M625 1/2 Hd Impact Wrench - $96.34

1/2" SUPER DUTY AIR IMPACT WRENCH



Wilmar's most powerful 1/2" drive impact wrench
Built-in air regulator
420 ft./lbs. of torque
Adjustable power regulator with 6 torque -
setting for precise speed & power control
Contoured handle and well balanced design
DeWalt DWE357 Compact Reciprocating Saw - $120.77

COMPACT RECIPROCATING SAW



Compact design at only 14-1/2" in length
Offers easy access to tight areas
Key-less, lever-action blade clamp has -
4 positions for additional versatility
Powerful 10 Amp motor for H-D applications
0-2,800 SPM & a 1-1/8" cutting stroke
Overmolded soft grip handle for control
Includes heavy-duty kit storage bag
Wilmar Corp M550DB Air Hammer W/4 Chisels - $16.59

AIR HAMMER WITH CHISELS



For general repair work, cutting and -
exhaust system work
Built-in air regulator
Quick change spring safety retainer
Includes 4 heat treated chisels
Apex/Cooper Tool CSWS10N SAE/METRIC SOCKET SET, 52 Piece 3/8" dr - $61.38

52-PC. 3/8" DR. SAE/METRIC SOCKET SET



3/8" drive set w/standard & deep sockets
Tools made of Chrome Vanadium alloy steel
Includes 1/4" drive, 72-tooth quick-release -
ratchet, 3" & 6" extensions, universal joint, -
5/8" spark plug socket & 12-pt. and 6-pt. deep-
length sockets in sizes: 1/4", 5/16", 3/8", -
7/16", 1/2", 9/16", 5/8", 11/16", 3/4", 13/16"-
7/8", 7,8,9,10,11,12,13,14,15,16,17,18 & 19mm
Werner 150B Aluminum Step Stool, Type IA - 2 Ft. - $35.40

ALUMINUM STEP STOOL



Type IA duty rating -300 lb. load capacity
Heavy duty/ industrial use
Molded top provides large standing platform
Molded vinyl foot pads riveted to rails
Slip-resistant traction-tread steps
Bottom step has double channel braces
Ideal for industry, office & home applications
Not for use around electricity
Klein Tools 85076 7pc Screwdriver Set - $56.42

7-PIECE CUSHION-GRIP SCREWDRIVER SET



General purpose selection of most used drivers
Includes 3 cabinet-tip, 2 Phillips-tip and 2 -
keystone-tip styles
Heated treated shafts - chrome plated
Precision-machined tip for exact fit
Has Tip-Ident quickly identifies type & tip
In plastic container
DeWalt D55140 Trim Compressor, 1 gallon - $200.30

H-D 1 GALLON TRIM COMPRESSOR



.75 SCFM DELIVERED @90 PSI trim compressor
1.0 gal. tank and 135 max PSI for quick recovery
Durable oil free pump-maintenance-free operation
2.6 amp draw for easy start-ups
Lightweight; 24 lbs. thin (9.0") compact design
Belt drive - ball valve tank drain
Includes (1) quick connect coupler
Convenient cord wrap - high-flow regulator
DeWalt DW890 Swivel Head Shear - $213.92

H-D 18 GA. SWIVEL HEAD SHEAR



Powerful 5.0 Amp, all ball-bearing motor
Head swivels 360 deg. for cutting convenience
Cuts 7/32" strip which continuously curls out-
of cutting area for clear line of sight
Variable speed; 0-2,500 spm
Cuts radius of 5-1/2" and larger
Capacity in mild steel 18 gauge
Capacity in stainless steel 20 gauge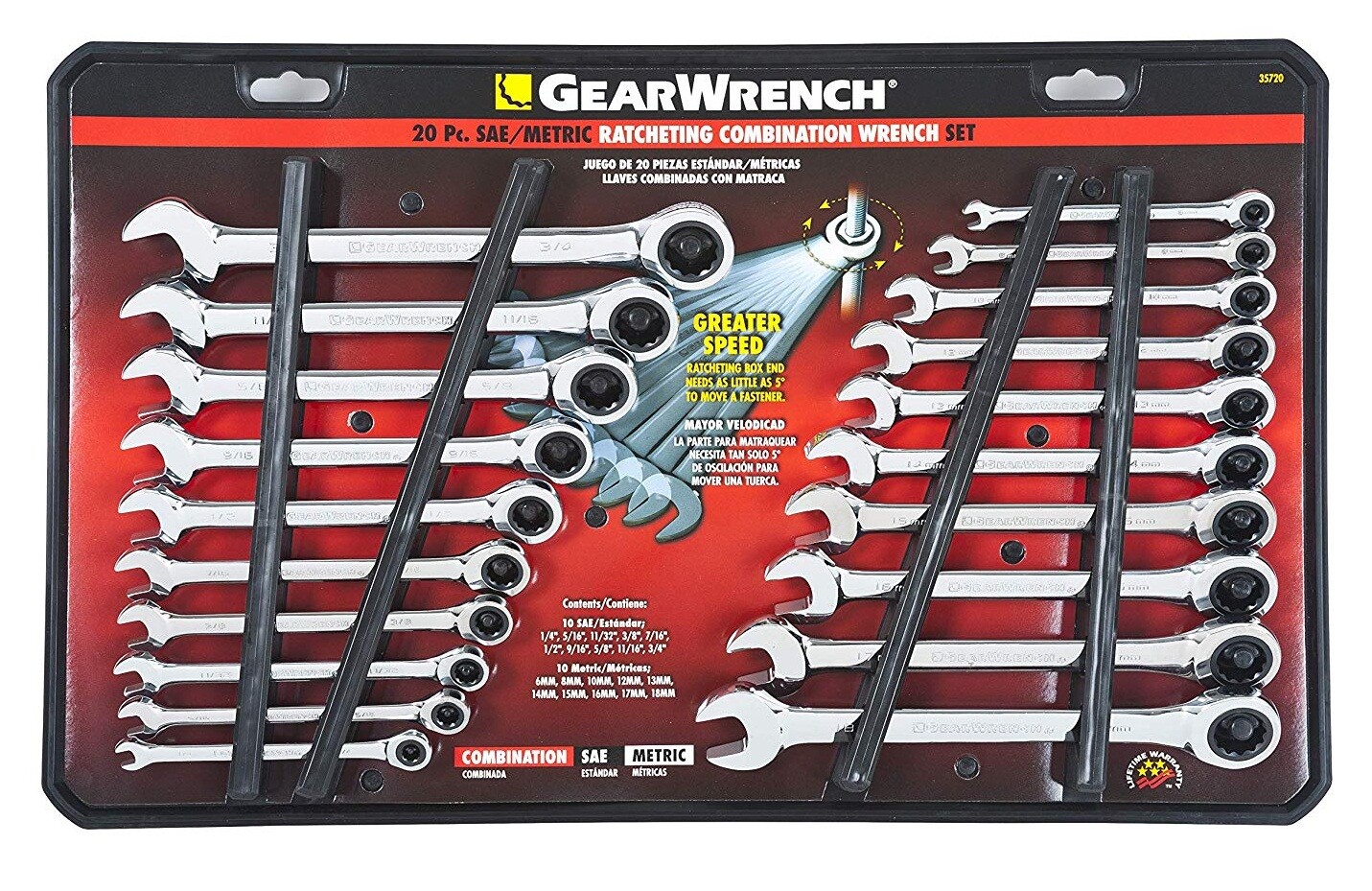 gearwrench ratcheting wrench set 72 tooth ratcheting box end needs a minimal 5° to move fasteners vs. 30° for standard wrenches Off-corner loading design on box end provides better grip and reduces fastener rounding Pass-thru technology works down any length of threaded rod and long bolts Thin head and beam provide greater access in confined work areas Size conveniently stamped on both ends of the beam for quick identification Manufactured from alloy steel for better strength and longer tool life Bright, full polish chrome finish wipes easily clean to resist rust and corrosion Meets or exceeds ASME and ANSI specifications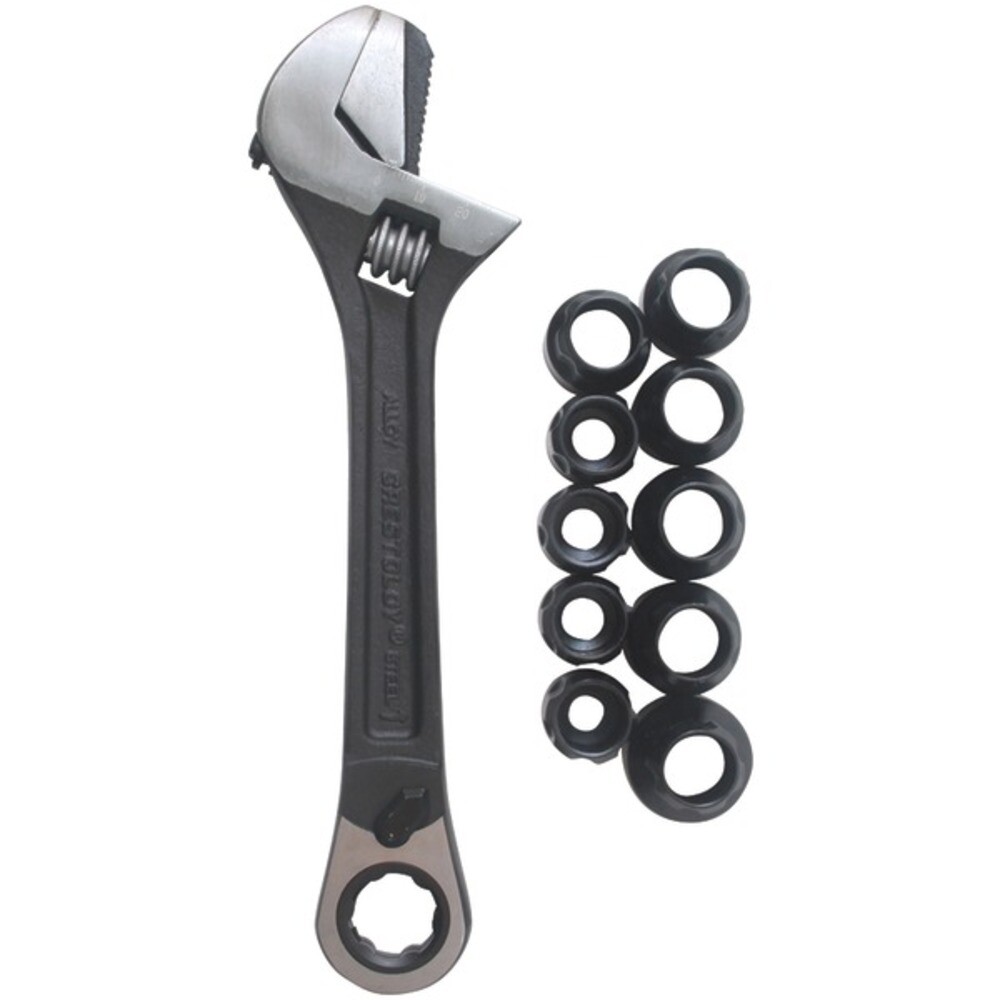 Crescent Pass-Thru Adjustable Wrench Set Traditional 8 adjustable wrench with laser etched SAE/metric scales wide jaw opening Offers user multiple fastening options in a single tool design Pass ThruTM reversible ratcheting system works over long threaded rod where normal ratchets sockets wont fit Every Pass ThruTM socket replaces 1 standard 1 deep Universal design fits 6 fastener types hex square 12pt E torx partially rounded hex spline Sockets are clearly marked for easy identification Corrosion resistant black phosphate finish Includes 10 universal combo sockets that fit both standard metric fasteners 3/8 10mm 7/16 11mm 15/32 12mm 1/2 13mm 9/16 14mm 19/32 15mm 5/8 16mm 11/16 17mm 23/32 18mm 3/4 19mm Packaged in a convenient storage tray
Klein Tools D502-10 Pump Pliers, 10" - $24.61

KLEIN 10" PUMP PLIERS



Secure tongue and groove design for non-slip -
grip, even with heavy pressure
Wide range of versatile jaw positions
Plastic dipped handles for comfort
Maximum jaw capacity: 1-3/4"
DeWalt DW311K Heavy Duty Reciprocating Saw Kit - $204.85

H-D RECIPROCATING SAW KIT



13 Amp motor delivers increased power
0-2,700 spm with 1-1/8" blade stroke
Keyless stainless steel blade clamp
Keyless adjustable shoe adjusts depth of cut
Variable speed control dial
Tool weight: 9 lbs. length - 18"
Includes metal-cutting blade
Heavy-duty box kit
Combo Wrench Set Raised panel Chrome vanadium steel Nickel chrome-plated Hyper Tough 32-Piece Combination Wrench Set: Fully Polished Mirror Finish Chrome Vanadium Steel Nickel chrome-plated Sizes: STANDARD: MM 6,7,8,9,10,12,13, 15,17,18 mm SAE 1/4, 5/16, 11/32, 3/8, 7/16, 1/2, 9/16, 5/8, 11/16, 3/4 in. and STUBBY: MM 10, 11, 12,13,14,15 mm SAE 5/16,3/8, 7/16, 1/2,9/16, 5/8 in.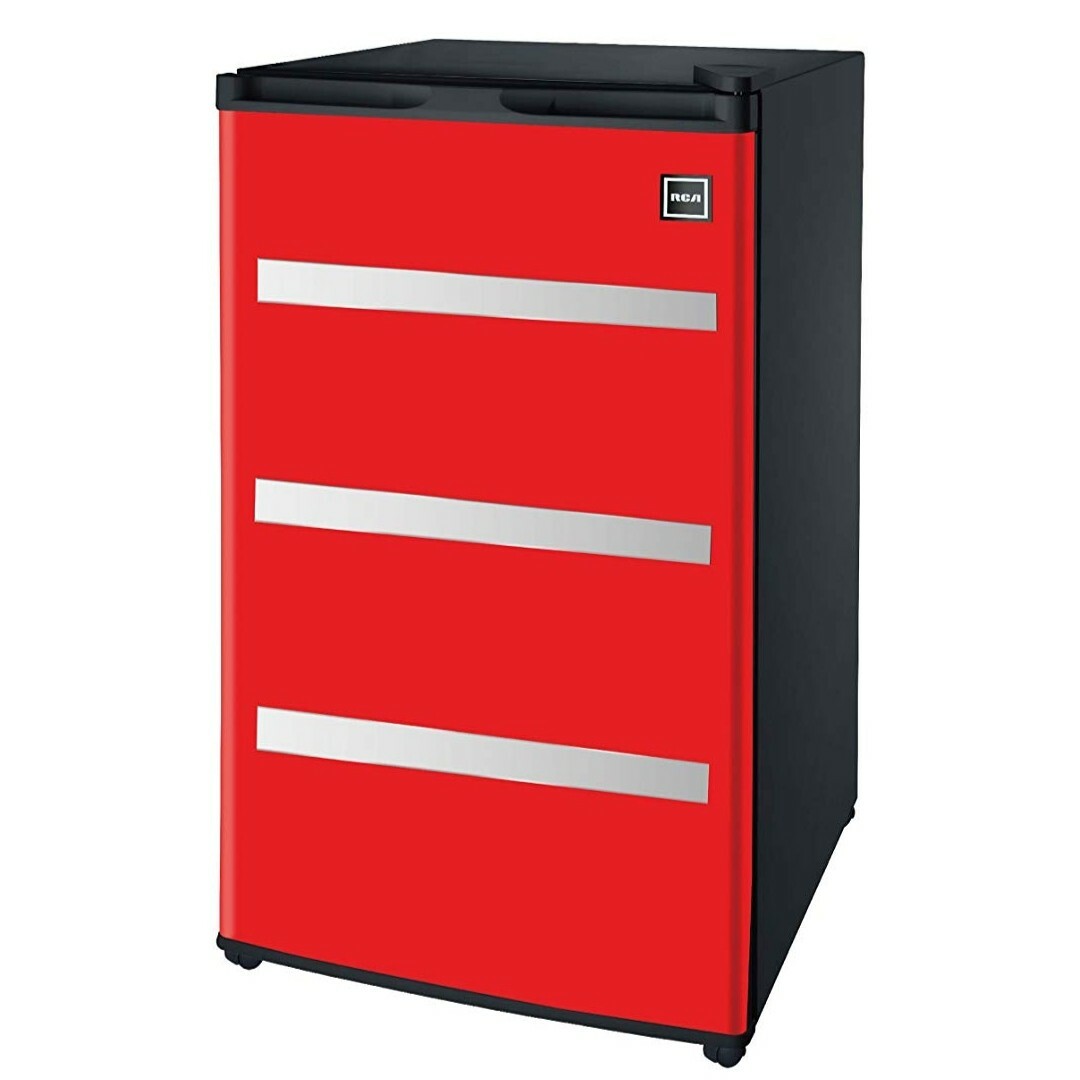 igloo 3.2 fridge Igloo FR329-Red Garage Fridge Tool Box, 3.2 Cubic Feet, Red ,,#id(royroy16 it#208361580647040 From the Manufacturer Take a breather from your difficult job with this Tool Box refrigerator. Built for a Mans world you can hide your secret beverage stash in this tool box looking mini fridge. The unique design is ideal for a garage or any man cave! With 3.2 cu ft of cooling space you have plenty of room to keep beer and other refreshing drinks and snacks closely at hand. The fridge uses a powerful compressor to keep your drinks perfectly cold all with low energy consumption. Inside the fridge is a crisper to keep fruit, vegetables etc fresh for extended period of time. The bottom of the unit has 4 caster wheels so you can roll the fridge around for added flexibility. when you find the right spot you can lock down the wheels. This fridge will blend right in to your garage or work room and is the perfect gift for Dad, or any handy man.
Zag/Stanley 014461M FatMax® Professional Organizer - $37.18

FATMAX PRO LX ORGANIZER



High impact, break resistant crystal clear lid
Lid design keeps storage cups locked in place
Large deep cups for easy access to small items
Extra wide handle designed for gloved hands
Case body is black with clear lid
Dimensions: 4" H x 19" L x 17-1/4" W
DeWalt DCF899B Bare Impact Wrench with Detention Pen, 20V ~ 1/2" - $258.19

20-VOLT 1/2" IMPACT WRENCH - BARE TOOL



20-volt 1/2" impact wrench delivers up to -
700 ft.lbs. of max torque and 1200 ft./lbs.-
of max breakaway torque
Compact design of 8-13/16" in length
0-400/1,200/1,900 multi-speed control
1/2" anvil with detent pin
Has LED light with 20 second delay
Bare tool - battery & charger NOT Included
DeWalt DW22812 10pc 1/2dr Socket Set - $55.42

10 PIECE IMPACT READY SOCKET SET



Includes 8 common size sockets between 7/16" & -
7/8" and (2) 1/4" socket adapters
Designed for use with impact drivers & wrenches
Large, easy to read laser etched markings
K-T Ind 1-5621 3/4" Drive SAE Socket Set ~ 21 Piece - $99.82

21-PC 3/4' DRIVE SAE SOCKET SET



21 piece set of 3/4" drive sockets & tools
Chrome vanadium steel, tempered & heat treated
Includes (16) 12-point sockets sizes: 7/8", -
15/16", 1-1/16", 1-1/8", 1-3/16", 1-1/4", -
1-5/16", 1-3/8", 1-7/16", 1-1/2", 1-5/8", -
1-7/8", 1-13/16', and 2"
(1) 20" reversible ratchet, 18" sliding T -
handle, 3-1/2" & 8" extensions & carrying case
I am seeking donations for an important environmental project and funding for future ecological projects-see the site at http://elephantearsplants.tripod.com and you can also use this button to purchase plants here
Milwaukee Tool 2755-20 M18 1/2 Impact Wrench - $179.00

M18 FUEL 1/2" COMPACT IMPACT WRENCH W/ PIN DETENT



Delivers up to 220 ft-lbs of torque
POWERSTATE brushless motor provides up to 25% -
more run-time than leading competitors
4-Mode DRIVE CONTROL gives greater control over-
output: Mode 1 0-900 RPM, Mode 0-1600 RPM, -
Mode 3 0-2500 RPM, and Auto Shut-Off mode -
detects when tool has impacted on a fastener & -
automatically shuts the tool down
K-T Ind 52457 3/4" Drive Metric Socket Set ~ 21 Piece - $99.82

21-PC 3/4" DRIVE METRIC SOCKET SET



21 piece set of 3/4" drive sockets & tools
Chrome vanadium steel, tempered & heat treated
Set includes (17) 12 pt. metric sockets:
19,22,24,26,27,28,30,32,34,36,38,41,42,45,-
46,48 and 50 mm
(1) 20" reversible ratchet, 18" sliding T -
handle, 3-1/2" & 8" extensions & carrying case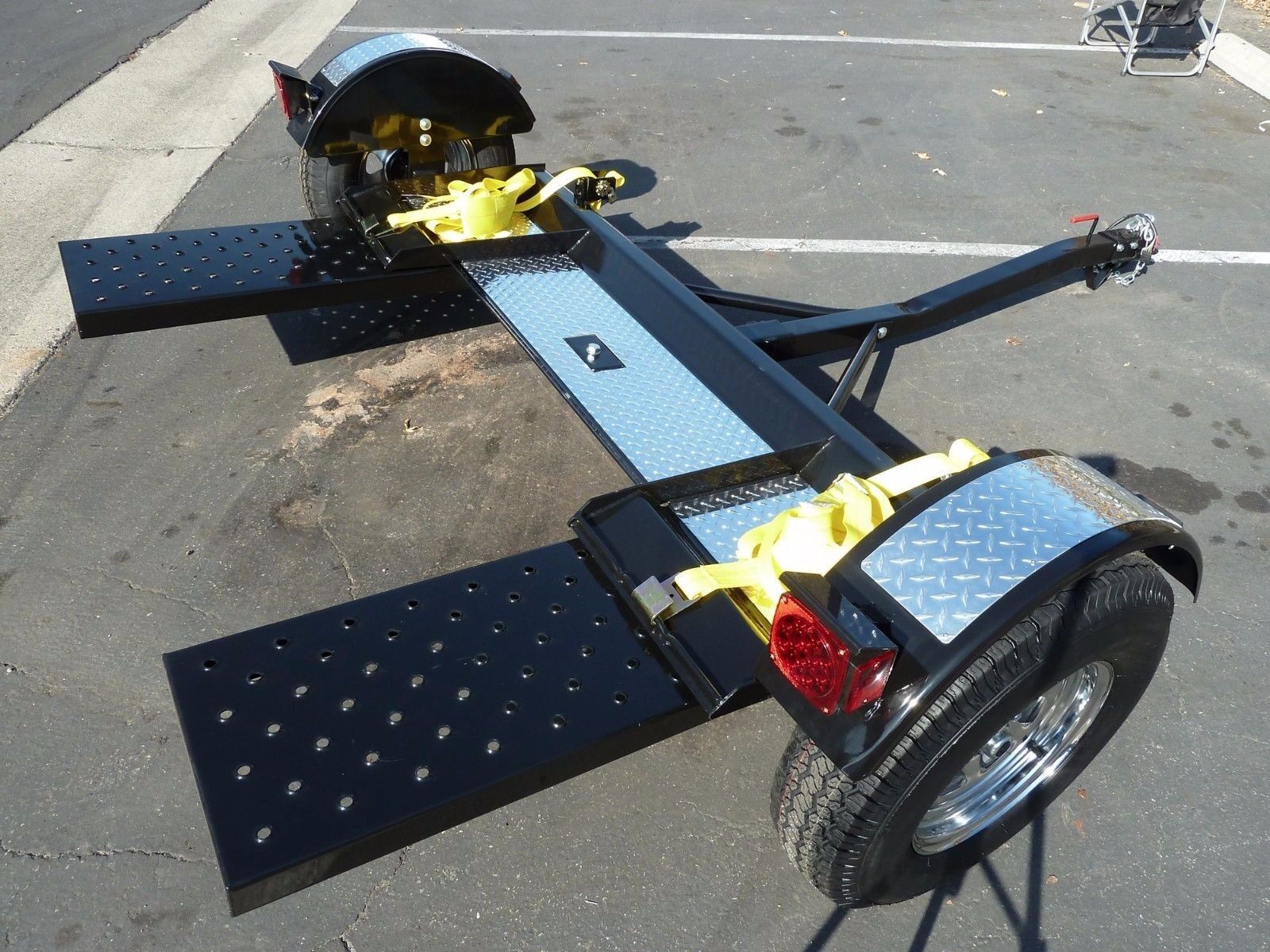 Premier Tow Dolly. For over 10 years these dollies have been the premium tow dolly on the market. When you're towing a vehicle, you have to be confident that the tow dolly is doing its job. In many cases, you can't see the vehicle in tow. Don't rely on blind trust; get an affordable tow dolly with the strength, quality and features you need. The Premier Car Tow Dolly offers a heavy duty frame with a durable powder coat finish. The 14" heavy duty tires and wheels are covered by steel fenders with DOT approved LED taillights connected by a pre-wired, snap connect, factory wiring harness. Your vehicle will ride smoothly, even at highway speeds thanks to the heavy duty spindles and cast hubs. Lashing winches and tire nets are included as are maintenance free Teflon pads. The Premier is capable of towing small, medium and large cars, trucks and vans. Simply drive it on, tie it down and hit the road. Even if you can't see your valuable vehicle while towing, you can be confident that the Premier Car Tow Dolly will ensure a safe and smooth ride.

12V Double Motor Electric Hydraulic Floor Jack Lift Box 5T LED Light Car SUV Van
,,,,,
Me-David J Ward- at the local Angleton Library working on my websites-one of my favorite hangouts!!
Apex/Cooper Tool CSWS1N 20pc Sae/Mm Socket Set - $21.38

20-PC. 1/4" DRIVE SAE/MM SOCKET WRENCH SET



20-pc. socket set with full polish finish
Includes 1/4"drive 72 tooth ratchet w/5 deg. -
swing, 3" extension bar, (9) 6 pt. SAE sockets-
from 3/16" to 1/2",(9) 6 pt. Metric sockets -
from 5 to 13 mm plus storage rack
Durable easy-read socket size markings
Performance exceeds ASME specifications
Lifetime warranty
,,,,,,,

15L Travel Car Refrigerator 12V Portable Cooler Warmer Electric Mini Camp Can Holder

4L Mini Refrigerator Car Refrigerator Outdoor Travel Portable 12V 220V Mini Car Home Fridge Cooler Warmer

Black & Decker TC212B 12-Can Travel Cooler & Warmer
Milwaukee Tool 2522-20 M12 3" Compact Cut-Off Tool - $129.00

M12 FUEL 3" COMPACT CUT OFF TOOL



Delivers multi-material cutting capability
Optimized for one-handed use
Brushless motor spinning at 20,000 RPM
Reversible blade rotation for varying cuts
Includes: (1) 3" carbide abrasive blade, (1) -
diamond tile blade, (1) metal cut off wheel, -
and shoe guard with vacuum adapter
Wolverine tough boots-the best boots that I have ever worn-tough and comfortable boots that lasted me personally for over three years of hard use!!